Don't Delay in Requesting Our Free Estate Planning Guide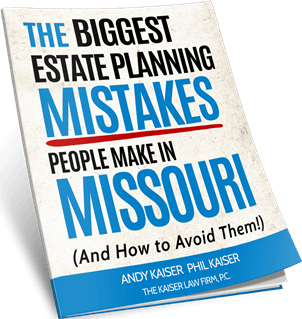 The obvious mistake people make with estate planning is not having a plan at all, but even people who think they have been conscientious about their assets are shocked to learn that they are not as prepared as they thought they were.
Are you one of those people? Find out by requesting a free copy of our report, The Biggest Estate Planning Mistakes People in Missouri Make (And How to Avoid Them!). If you care about what happens to your assets if you become incapacitated or die unexpectedly—and who doesn't?—you owe it to yourself and your family to read this book.
Spoiler Alert!
To convince you that you need this book, we will reveal the common misconceptions we discuss in the book right now! If any of the following statements sound like something you have said, trust us—you need this book:
I don't need a living trust.
All living trusts are the same.
My trustee will be able to step in and handle everything immediately for me if I am ill or disabled.
I have a living trust, so my family will avoid probate.
My beneficiaries can get their inheritance from my living trust and handle it on their own.
I have a living trust, so my IRAs and retirement plans are fully protected.
We've got a living trust so I'm (we're) fully protected.
We'll get around to it someday.
So, now you know what the mistakes are, but do you know why they are mistakes? When you download and read our free guide to estate planning, you will not only learn why they are mistakes, but you will learn what you should do to fix or avoid them.
The Kaiser Law Firm, P.C., Helps You Avoid These Mistakes
For many people, the hardest thing about creating an estate plan is taking that first step. Ease into it by requesting our book. You are under no obligation to us, but you can get the information you need to start the process of protecting your assets for your heirs. Fill out the form on this page and you will get a link to download the book right away!