Your Guide to The Gold Standard of Asset Protection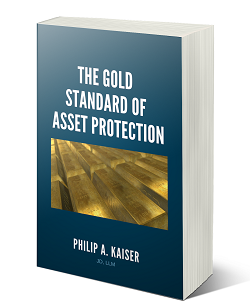 In life, there are no guarantees. There is simply no way to eliminate all of the risks of being sued, but you can improve your chances of success with the best planning, preparation, and insight. In particular, knowing the best type of asset protection planning can help protect you and your loved ones from future unknown creditors and lawsuits.
In The Gold Standard of Asset Protection, The Kaiser Law Firm gives readers a valuable resource and insight about Cook Islands Asset Protection Trusts – the gold standard of asset protection planning.

Don't worry - requesting this book doesn't automatically make you a client of The Kaiser Law Firm, P.C. Also, your information will not be sold or shared with any third parties.